Ori-ori Sanpai
Zazen hour and 104 Paintings by Domoto Insho[For Saihokai Members]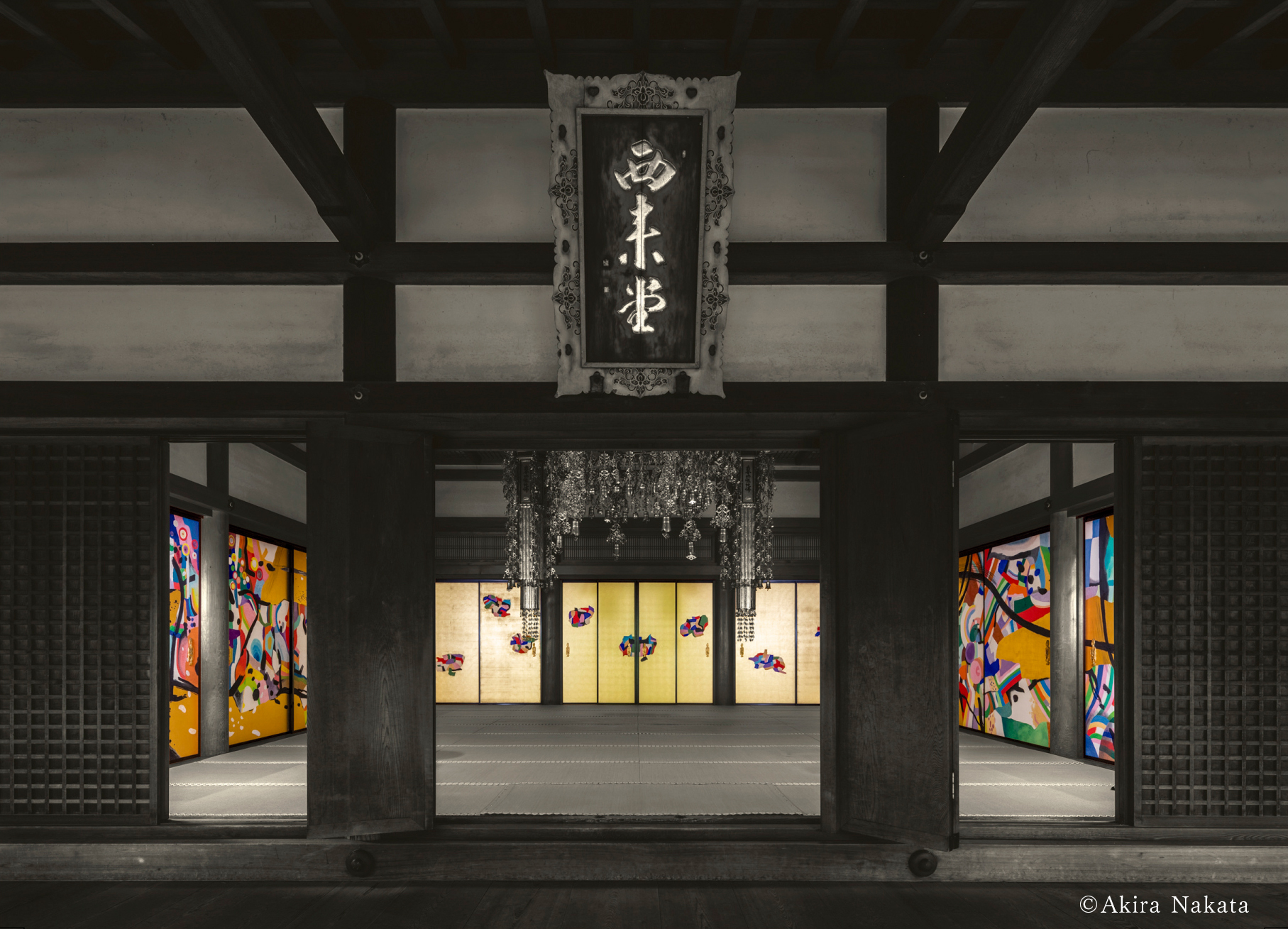 Domoto Insho, a Japanese painter born in Kyoto, is a strict Buddhist and has painted a number of murals and other works for temples. After listening to the introduction of his powerful paintings and its relationship with Saihoji, you will experience the spirits of Zen at the "Zazen Hour*" in the colorful shimmering main hall.
(*The time to face yourself in a relaxed posture, concentrating on your five senses and breathing.)
-Winter Garden-
In winter, the mosses hibernate under a fallen leaves bed, and wait for spring to come. So, we sweep the garden less than usual and give them a term with no human intervention. Taking a rest is what is important for living. Please come visit the quiet and serene garden, which you can see only in the winter.
(*restoration work is underway in part of the garden during the term.)
Application Guidelines
<Advance registration is required by the day before the visit.>
[Qualified] Saihokai member (About Membership) *aged 13 or older at time of visit. *Accompanying persons need not be members.
[Dates] January 21,2024(Sun)
February 25, 2024(Sun) *Applications accepted 2 months in advance
[Start Time] 9:15 (Meet at 9:10 am)
[Required Time] Approx. 70 min.
[Contents] First, a temple staff will give you guidance about the history of Saihoji and Insho's paintings on the sliding doors(fusuma). Afterward, you will participate in Zaen Hour at the main hall and individually proceed to the garden.
[Quota] 6 people
[Admission fee] 6,000 yen
*Our system usage fee of 110 yen (tax included) will be charged per person per visit, aside from admission fee.
[Language] Japanese
*Even if you don't understand Japanese, please feel free to join this program. We will provide you with a leaflet with English information.
[Important notes when reserving your visit]
-Creation of your account is required for making a reservation.
-Personal data, such as names of each visitor, are required for making a reservation.
-The garden paths are not wheelchair accessible, as the temple grounds include steps and areas covered in gravel.

[Change/Cancellation]
The date and time of the visit cannot be changed. If you wish to change the date and time of your visit, please cancel your reservation and make a new one. Cancellations (including reduction in the number of participants) will be subject to the following cancellation fees.
Cancellation fees:
(Up to 4 days before) Free of charge
(3 days before - 1 day before) 50%
(On the day of your visit) 100%
*The system usage fee(110 yen including tax per person) is not refundable regardless of the date of cancellation.