Ori-ori Sanpai
Winter Visit: 104 Paintings by Domoto Insho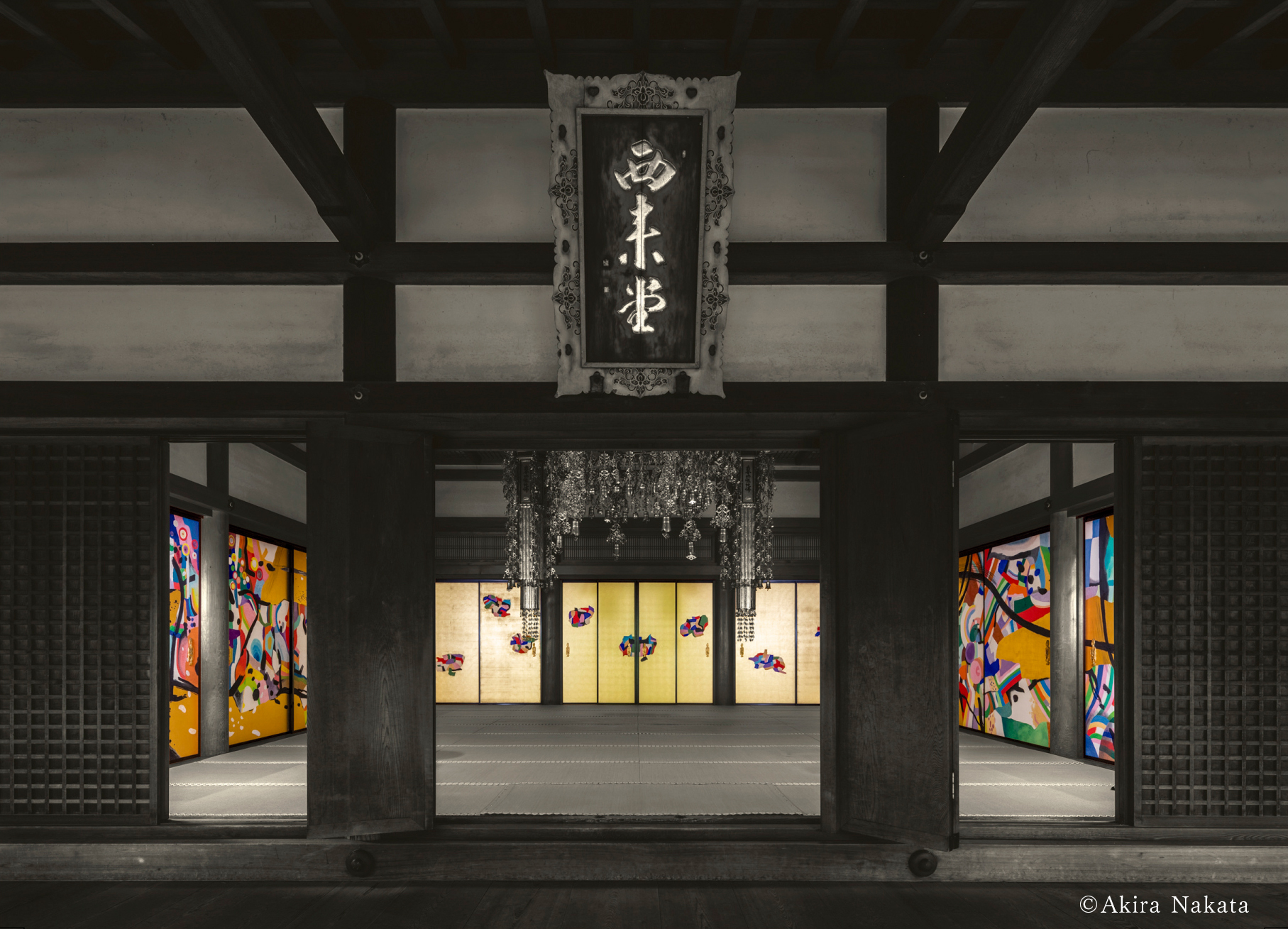 Domoto Insho, a Japanese painter born in Kyoto, is a strict Buddhist and has painted a number of murals and other works for temples. In the main hall of Saihoji, Sairai-do, you can see the paintings on the sliding doors (fusuma) which he completed in his later years. You will witness the colorful paintings harmonizing with the Zen temple in winter.
-Winter Garden-
In winter, the mosses hibernate under a fallen leaves bed, and wait for spring to come. So, we sweep the garden less than usual and give them a term with no human intervention. Taking a rest is what is important for living. Please come visit the quiet and serene garden, which you can see only in the winter.
(*restoration work is underway in part of the garden during the term.)
Application Guidelines
<Advance registration is required by the day before the visit.>
[Qualified] Non member/Saihokai member (About Membership)
*aged 13 or older at time of visit.
[Dates] January, 2024 : 14(sun),21(sun)
February, 2024 : 11(sun),12(mon),25(sun) *Applications accepted 2 months in advance
(Due to a change in the construction schedule, some dates have been changed as of 11/30.)
[Start Time] 10:00, 10:30
[Required Time] Approx. 50 min.
[Contents] Please visit the main hall, where all of the 104 paintings are on display, and then, walk around the garden.
[Quota] 20 people
[Admission fee] 4,000 yen
*Our system usage fee of 110 yen (tax included) will be charged per person per visit, aside from admission fee.
[Language] Japanese
*Even if you don't understand Japanese, please feel free to join this program. We will provide you with a leaflet with English information.
[Important notes when reserving your visit]
-Creation of your account is required for making a reservation.
-Personal data, such as names of each visitor, are required for making a reservation.
-The garden paths are not wheelchair accessible, as the temple grounds include steps and areas covered in gravel.

[Change/Cancellation]
The date and time of the visit cannot be changed. If you wish to change the date and time of your visit, please cancel your reservation and make a new one. Cancellations (including reduction in the number of participants) will be subject to the following cancellation fees.
Cancellation fees:
(Up to 4 days before) Free of charge
(3 days before - 1 day before) 50%
(On the day of your visit) 100%
*The system usage fee(110 yen including tax per person) is not refundable regardless of the date of cancellation.