Ori-ori Sanpai
Morning Visit[For Saihokai Members]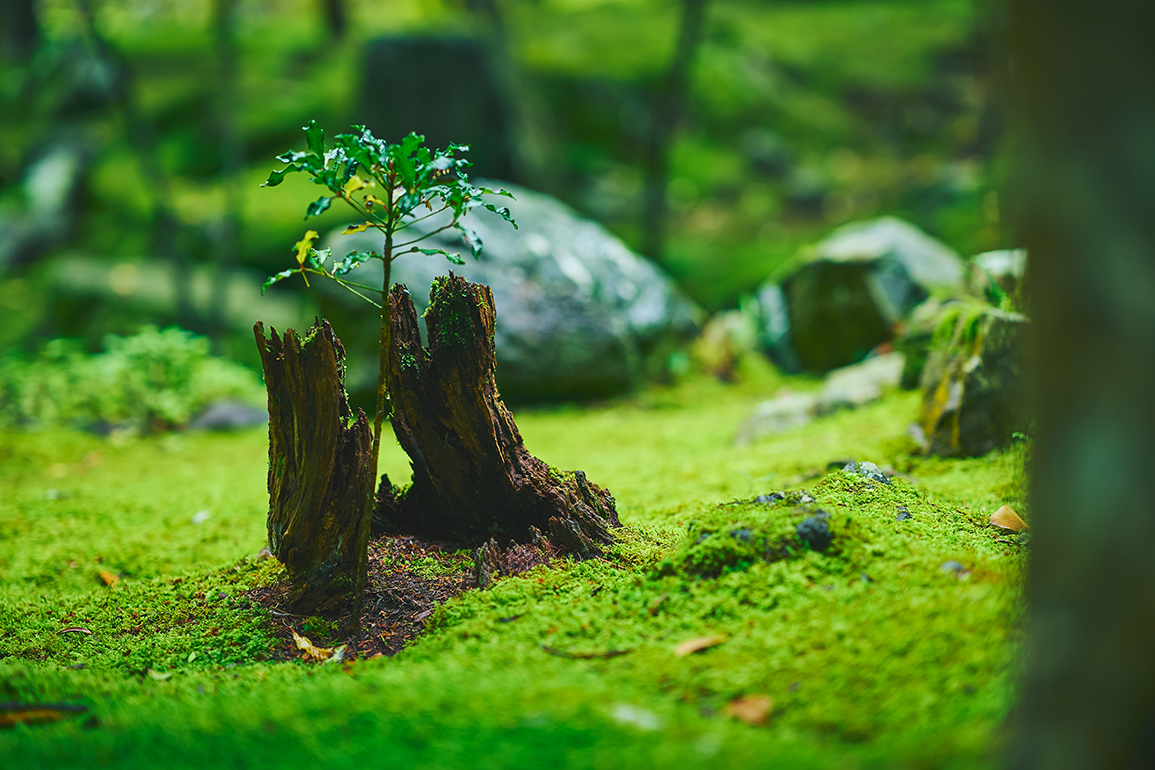 As the spotlessly cleaned main hall welcomes the golden rays of the morning sun, the chirping of birds announces the beginning of a new day.
With a Morning Visit session, you can start off your day in this dignified atmosphere and relax in a moment. After listening to the bell ring five times and meditating for three minutes in the main hall, clear your mind by copying a sutra and being free to walk around the garden.
(After participating in the Morning Visit, you can continue with the Nichi-nichi Sanpai program without application. Please take your time.)
Application Guidelines
Advance registration is required by the day before the visit.
[Qualified] Saihokai members *aged 13 or older at time of visit. *Accompanying persons need not be members. (About Membership)
[Dates] December, 2023 : 4(Mon), 11(Mon), 16(Sat), 24(Sun)
[Start Time] 9:15(Meet at 9:10 am)
[Required Time] Approx. 70 min.
[Contents] Receive an explanation of Saihoji Temple before a three-minute meditation session and copying of a sutra at the main hall, followed by walking around the garden.
(After the program, you can stay until the closing time of the "Nichi-nichi Sanpai" without application.)
*Please refrain from taking pictures during the tour.
[Quota] 15 people
[Admission fee] 6,000 yen (Includes Saihoji-branded calligraphy brush)
*Visitors who bring their own brush or fine brush will receive a piece of Saihoji original merchandise instead of the pen.
*Our system usage fee of 110 yen (tax included) will be charged per person per visit, aside from admission fee.
[Language] Japanese
*Even if you don't understand Japanese, please feel free to join this program. We will provide you with a leaflet with English information.
[Important notes when reserving your visit]
-Creation of your account is required for making a reservation.
-Personal data, such as names of each visitor, are required for making a reservation.
-The garden paths are not wheelchair accessible, as the temple grounds include steps and areas covered in gravel.

[Change/Cancellation]
The date and time of the visit cannot be changed. If you wish to change the date and time of your visit, please cancel your reservation and make a new one. Cancellations (including reduction in the number of participants) will be subject to the following cancellation fees.
Cancellation fees:
(Up to 4 days before) Free of charge
(3 days before - 1 day before) 50%
(On the day of your visit) 100%
*The system usage fee(110 yen including tax per person) is not refundable regardless of the date of cancellation.