Ori-ori Sanpai
Children's Day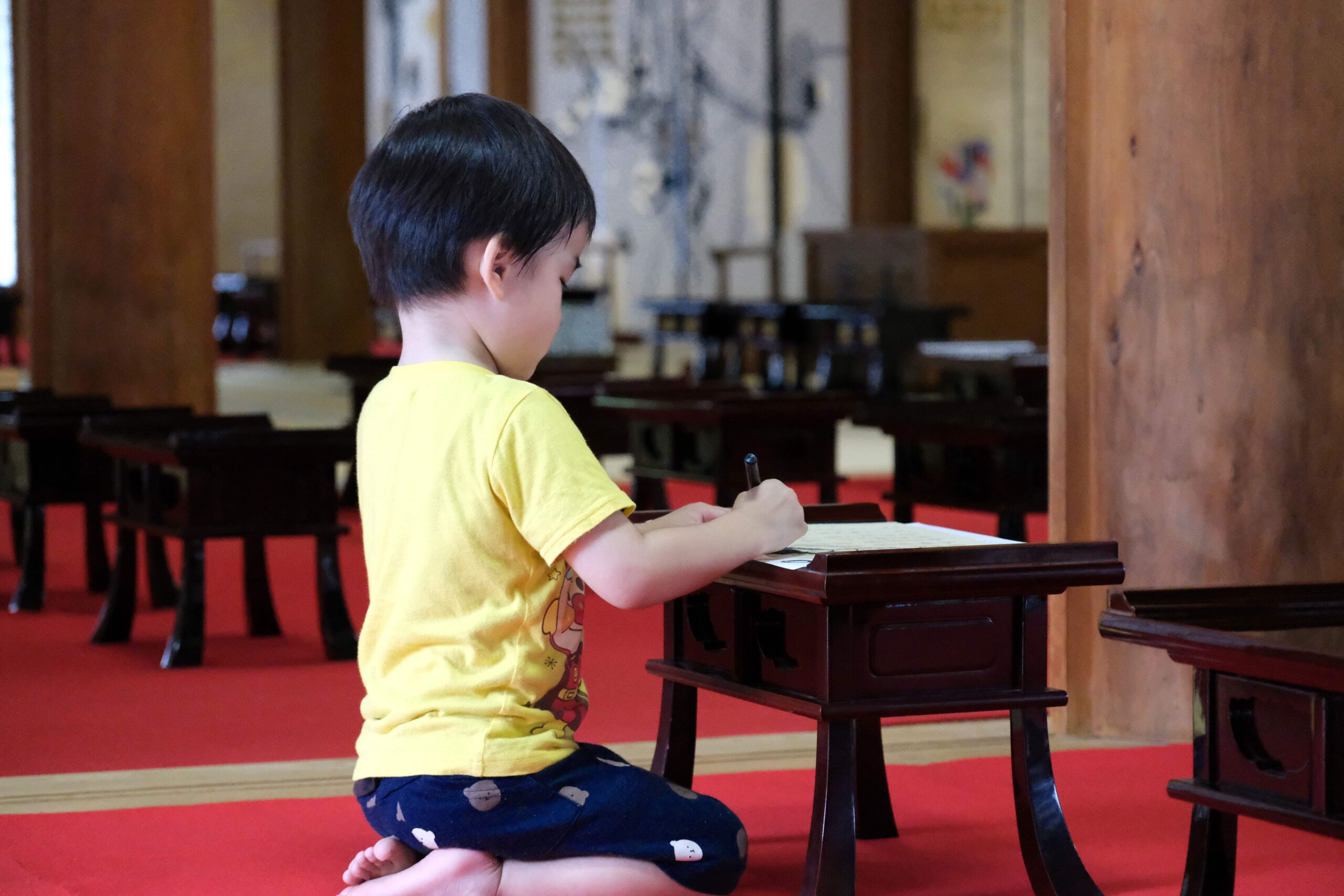 Children's Day programs are specially arranged for children.
The usually quiet temple grounds become a little livelier, filled with carefree, smiling faces.
(Adults without children are also welcome to visit on Children's Day, but please be aware when you register that the program will be tailored for children. )
Application Guidelines
<Advance reservation is required by the day before your visit.>
[Qualified] Non-members and Saihokai members  (About membership)*Children under 12 years old are also welcome to visit.
[Dates&Start Time] January 7, 2024 (Sun) 11:15-, March 24, 2024(Sun) 13:00-
*Applications accepted 2 months in advance
[Required Time] Approx. 60 min.
[Contents] Sutra copying in the main hall, followed by a garden visit.
(Children can take the sutra paper or a postcard home with them.Upon request, postcards can be sent by postal mail.)
[Admission fee] 4,000yen(Includes Saihoji-branded calligraphy brush)
*Each visitor aged 13 or older can be accompanied by one child 12 or younger, free of charge.
*Visitors who bring their own brush pen or fine brush will receive a piece of Saihoji original merchandise instead of the usual Saihoji-branded brush pen.
*Our system usage fee of 110 yen (tax included) will be charged per person per visit, aside from the admission fee.
[Language] The program will be held in Japanese.
*Even if you don't understand Japanese, please feel free to join this program. We will provide you with a leaflet with English information.

[Important notes when reserving your visit]
-Creation of your account is required for making a reservation.
-Personal data, such as names of each visitor, are required for making a reservation.
-The garden paths are not wheelchair accessible, as the temple grounds include steps and areas covered in gravel.

[Change/Cancellation]
The date and time of the visit cannot be changed. If you wish to change the date and time of your visit, please cancel your reservation and make a new one. Cancellations (including reduction in the number of participants) will be subject to the following cancellation fees.
Cancellation fees: 
(Up to 4 days before) Free of charge
(3 days before - 1 day before) 50%
(On the day of your visit) 100%
*The system usage fee(110 yen including tax per person)  is not refundable regardless of the date of cancellation.